AAUW Action Fund advances equity for women and girls through member activism and voter mobilization.
A briefing on the AAUW website provides detailed information about the structure of AAUW, the AAUW Action Fund, AAUW branches, and members.
AAUW Action Fund
1111 Sixteenth St. NW, Washington, DC 20036
800/326-AAUW (2289)
AAUW CT serves as a link between the national organization and its programs and the local branches.  AAUW CT provides information and resources to support both the 11 Connecticut AAUW branches and their leaders and our 22 college/university partner members.  In keeping with AAUW's emphasis on leadership development, AAUW CT, along with its branches and members, help to fund an array of leadership programs on our campuses.  These programs are described on our College/University Partnership Program page.  Serving on numerous boards and commissions, AAUW CT members are also involved in their communities and at the state level on issues and activities concerning equity, education, and economics.  These advocacy activities are important for informing policy and promoting positive social change.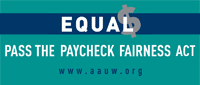 Are you registered to vote? Check your voter status here: Voter Status
Why should you vote? Get more information about voting: Voter Education
Already a registered voter? Get more information about your vote: Tools for Voters